Welcome to Peak Mountain Properties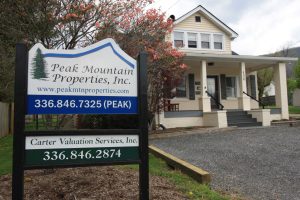 Your Home for Real Estate in West Jefferson & Ashe County
West Jefferson lies in the Blue Ridge Mountains of western North Carolina in Ashe County at the apex of North Carolina, Virginia and Tennessee, in one of the hottest North Carolina mountain real estate markets. West Jefferson NC Real Estate and Ashe County NC Real Estate are our specialty. Our Real Estate Agents are seasoned professionals able to assist you with your Blue Ridge Mountain real estate needs, whether you wish to have Ashe County NC Real Estate, West Jefferson NC Real Estate or other North Carolina mountain land on Peak Mountain, Three Top, Mount Jefferson and surrounding mountains, or along the New River.
Experience Ashe County and West Jefferson, the small town of your dreams, with its thriving arts district populated with Blue Ridge Mountain artisans. Own New River real estate and gaze on our unspoiled North Carolina mountain peaks, playing on your Ashe County North Carolina Real Estate, or shopping in the West Jefferson North Carolina arts district. Hike the North Carolina Mountains of Mt. Jefferson or Three Top, or in the New River State Park. Own a piece of Ashe County North Carolina Mountain Real Estate. The Realtors at Peak Mountain can put you where you belong—owning a piece of Ashe County or West Jefferson Real Estate where your North Carolina Mountain Peak awaits.
More Information
If you have any questions or would like more information, please contact us at 336-846-7325 or toll free at 866-246-4307.