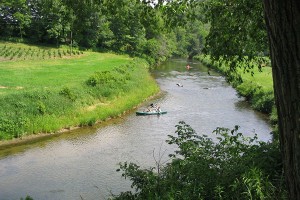 In Ashe County North Carolina you can experience and enjoy just about any activity you can think of. With a wonderful four season climate, you can enjoy outdoor activities like hiking, mountain biking, rock climbing, golf, tennis, horseback riding, picnicking, and fishing. The possibilities really are endless when you live in or buy Ashe County NC Real Estate and Western NC Mountain Cabins for Sale in Ashe County NC. Splendid features such as the North Carolina Blue Ridge Parkway and the New River NC have created numerous things to do throughout the county. In fact, Ashe County is one of the best places to enjoy Canoeing the New River, Fishing the New River and lazy tubing on the New River. Many travel from the resort area of Boone North Carolina to enjoy these wonderful wilderness activities. When you own Ashe County NC Real Estate here, your little slice of Heaven will be only minutes from these wonderful areas.
In addition to exploring the parkway and the wonderful soaring mountain peaks in the area, golf is another very popular activity in Ashe County, as many residents are part time residents from popular golfing spots in Florida, Georgia and all around the state of North Carolina. The county has two amazing golf courses, one at Jefferson Landing, a wonderful North Carolina Gated Community near West Jefferson North Carolina, and another public course at Mountainaire Golf Course. Imagine playing your best round at elevations that exceed 3,000 feet!
Not only are the outdoors popular in Ashe County NC, but mountain traditions, and the arts are also important to those that live in Ashe County. Numerous attractions like the West Jefferson Arts District, The Churches of the Frescoes and the fun Friday Ashe County Art Crawl events center around the county's love for keeping the arts and the Ashe County mountain heritage alive. Check out West Jefferson NC Real Estate near the lovely little galleries that are a part of the arts district.
Take a moment and learn more about the wonderful lifestyle that you can have when you live and own Ashe County NC Real Estate in the Blue Ridge Mountains!